Back to main Blog

Hakim Faiz
Enticed by the abundance of vowels and motivated by a spirited delight in facilitating personalised and human visitor experiences, Hakim is a digital content strategist at Wavetec. She specialises in the articulation of queue management and self-service solutions, edifying them to wider networks of businesses.
In This Blog:
Why are DMV wait times so long?
What is the solution to the concerns of frustrated visitors?
What is the DMV?
The Department of Motor Vehicles (DMV) is a United States government agency that handles vehicle registration and driver licensing for its state. Today, it is synonymous with long lines, frustrating waits, disorganization, stressed out and rude employees and customers and unpleasant citizen experiences due to operational inefficiency.
The average wait time for DMVs across America, is 44 minutes. This is however a deceptive statistic, as some citizens will face 10 minute waits, while neighboring states will queue for over an hour!
Why are wait times and lines at the DMV so long and tedious?
As with many government services, progress along the road to digitization for the DMV is slow. There is no competition, and therefore little incentive to introduce the relevant technology to ease staff and citizen journeys.
Demand for the services DMV's offer too is far higher than the ability to supply the relevant service. With increasing numbers of foot traffic, a limited number of counters is not enough to manage.
To visit the DMV is a legal requirement, needed to maintain one's status as a lawful driver in one's state. But with outdated operational 'legacy' technology, mismanaged staff allocations and lacking outreach, this simple task turns into a nightmarish occurrence.
How can queues at the DMV be better managed?
For DMV's to correct their image and work towards winning back the trust of the citizens they serve, they must take the following steps:
Adopt and adapt to new technology
Moving services online, like immigration and identity checks, deploying queue management systems to better manage and organize queues, and installing self-service kiosks to give citizens the opportunity to contactlessly and smoothly complete tasks, is just the tip of the iceberg.
By digitizing their service delivery, DMV's will enter the ranks of modern and futuristic service providers, and save operational costs, time and their reputation amongst citizens.
Keep waiting citizens informed, engaged and properly guided
By deploying digital signage solutions, DMV's ensure that citizens are aware of the statistics of their turn, like the estimated waiting time, how many people are ahead of them in the queue and when and which counter to approach when their turn arrives.
These signage solutions also engage individuals by directing and holding their attention with advertisements and marketing displays, thereby reducing perceived wait times. This will allow citizens to feel less impatient and frustrated.
Signage systems also guide the citizen throughout their journey, directing them to waiting areas, counters, feedback kiosks and entrances and exits. An informed citizen is a happy citizen!
Collect feedback for insight into service delivery shortcomings
Feedback is a sure shot way to ensure that your service delivery is meeting all the requirements of a modern service provider. To collect this, citizens can be directed to standing kiosks, counter displays or SMS messages on their phone devices.
Their feedback, comments, complaints and advice will be collected in real-time and analyzed. Reports will be generated that management can use to inform their policy changes.
Citizens too will feel valued and appreciated when asked for their feedback. This will allow them an active role in improving services they need to avail of.
Improve staff allocation
With the help of digital signage and queue management systems, staff is free to be better allocated, such that their productivity increases. More counters can be opened up, and be used to service clients according to their unique requirements. This will streamline service delivery, and save time as the relevant agent will be allocated to the citizen who most needs their services.
Faced with a calm and productive staff member, citizens visiting the DMV are more likely to react well and not be frustrated.
Online appointment booking
By booking appointments online and in advance of arriving on-premises, visitor volumes can be better managed and prepared for. With Wavetec's online appointment booking and scheduling software, citizens can book slots for their DMV visit online and from the comfort of their homes.
They can select which branch they prefer, which service they will be availing of and what time they want to visit. They also have the choice to cancel, reschedule or amend their appointment details as and when they please.
This will reduce the volume of walk-ins, the length of waiting queues and general frustration as it is known who will arrive when, and provisions can be made accordingly.
Allow citizens to queue virtually and remotely
With the onset of the pandemic, it became clear that virtual, online queues were a necessity. Wavetec pioneered the WhatsApp Queuing software, that allows citizens to queue virtually and remotely using only the messaging application on their smartphones.
Citizens scan a QR code or message a number, are greeted by the system and asked to reply with the service they are choosing to avail of that day.
They then secure a place in the online queue, and are issued a virtual ticket.
They are now free to wait wherever they please, run errands, while being notified in real-time about their estimated wait times, position in the queue and the number of the counter they must approach.
This way the citizen has transparency of information, is completing other tasks or relaxing remotely while in the queue, and is regularly notified about their turn. This system saves time, shortens queues, and improves customer satisfaction and experience.
Use real-time dashboards and reporting to make timely improvements
With Spectra Reporting and Dashboards, footfall data, visitor numbers, staff productivity, etc. is all collected, analyzed and processed in real-time reports for management to use in policy formulation.
This facilitates DMV's in making the best data-driven decisions going forwards, analyzing and improving service areas and customer touchpoints and reducing wait times and guaranteeing visitor satisfaction.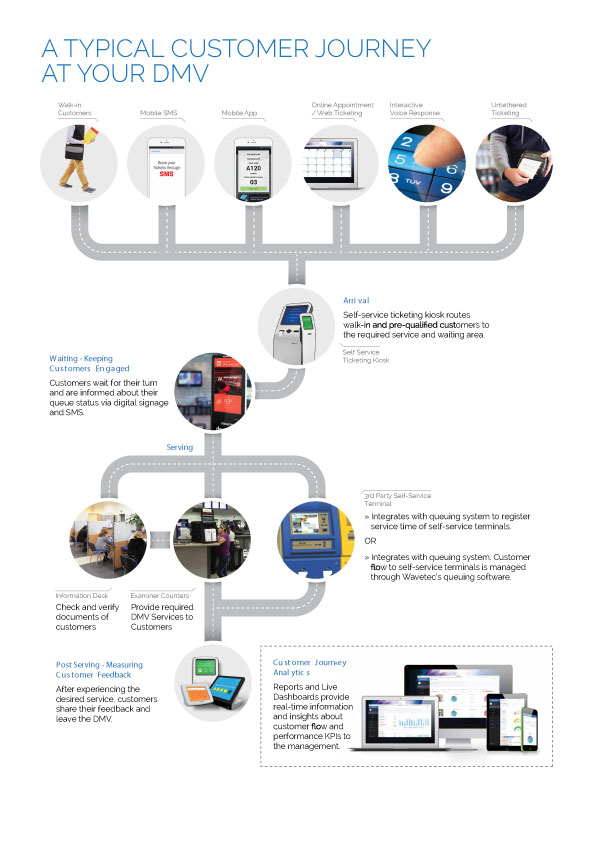 Wavetec success stories
DMVs all over USA & Canada are employing customer experience solutions to harmonize the relationship between customer service and employee productivity. Wavetec's Customer Experience Solutions aim to streamline customer flow to provide a holistic customer journey as they avail DMV services.
Streamline citizen engagement with integrated online and onsite technology platforms and self-service products, to gain and keep the trust of citizens.
Who and Where?
Wavetec, in partnership with Calico Technologies USA, redesigned customer journeys at 44 stations of Tennessee Department of Safety and Homeland Security by deploying a Queue Management system.
Why?
The process of delivering efficient and necessary services to citizens was being hampered. They needed a solution to manage customer flows and balance the workload between the Information Desk and the Examiner counters.
What was deployed?
Wavetec's intuitive customer journey management solution
Virtual Queuing via SMS, DMV website, or IVR or through an on-site kiosk
Automatic routing of customers to the relevant agent and counter
Appointment scheduling via Web Ticketing Module on the DMV website, an SMS for ticket reservation or by reserving a ticket by calling the DMV's hotline that uses IVR technology to assign tickets automatically
ADA compliant kiosks
Digital signage solutions
Citizen feedback collection systems
Feedback
"With the understanding that DMV is an inherently customer centric sector, it is an achievement for us to deliver a system that improved customer experience throughout the DMV network in Tennessee – Wavetec's solution is holistically integrated, and customized according to the complex workflows at the DMV and has completely transformed the DMV Experience".
Tobias Bessone, Deputy CEO Wavetec.
Structured queues, reduced wait times and streamlined customer flows are the dream of all DMVs. And all these are possible with Wavetec Queue Management solutions.