Back to main Blog

Tobias Bessone
Deputy CEO Wavetec
Is a renowned industry professional in the customer experience solutions industry. He has an obsessive passion for customer facing technologies that help corporations improve their service areas & customer experiences. He consults to some of the world's largest brands on their customer experience strategy and journey; his focus areas are New Product Development and Customer Journey Design.
Nowadays, mentioning an upcoming trip to the DMV is likely to be met with a look of pity, on par with a looming root canal or wisdom tooth operation. However, unlike an optional trip to the dentist, more than 214 million registered drivers are legally obliged to attend their local DMV centers to remain a lawful driver, and for many the process at DMVs has become a nightmare. Common grievances include long wait times, disorganized queuing systems, poor facilities and unfriendly and incompetent staff.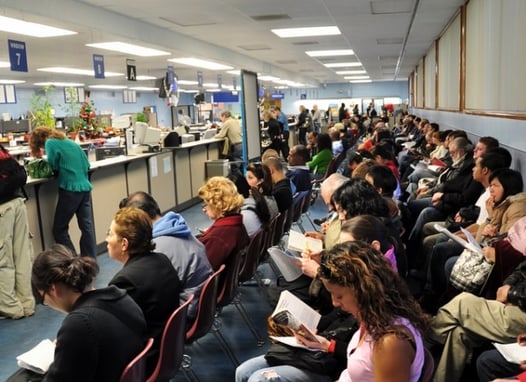 With users describing the DMV experience as 'draconian', a 'bureaucratic maze' and a 'broken system', it is obvious that something needs to be done. In other public service industries in the U.S. and beyond, organizations have turned to technology to streamline the process, allowing users to undertake processes online, book appointments and assess what time is best to visit. In a recent article, Richard Medina, argues that the three main problems for DMVs relate to outdated 'legacy' technology, staffing, and a lack of outreach which are reducing efficiency and combine together to create a time-consuming and frustrating overall user experience.
What's notable about the DMV visit is that people across the U.S. think it's one of the most miserable customer experiences they've encountered.
Even Disney in an animated movie Zootopia has a scene that will resonate for anyone who has ever waited to renew a driver's license. "Are you saying that because he is a sloth, he can't be fast?"
So what lessons can the DMVs learn from public service centers across the world?
The waiting game - a nationwide issue

Service Inefficiency- frustrating renewal lines, bureaucratic mix-ups and terrible employee morale.

Uncertain long waits- Over worked and under staffed DMV centers

Customer disatisfaction- no proper mechanism of measuring customer satisfaction levels

Percieved wating times are 20% more than actual waiting time
The sad reality is that there is no 'magic wand' response for the DMV problem. Improving efficiency and the overall staff and customer experience would involve a total rehaul of the customer journey in DMV offices.
Our Customer Experience Solutions for DMVs
Wavetec's virtual queuing solution combined with appointments, SMS and web ticketing, Mobile App and untethered wireless ticketing, can expedite your queues, provide real-time queuing information, and give your customers more control over how long and where they choose to wait.
Automation at work. I guess you see my point. It's time to take these sort of steps to make customer journey more streamlined and fast!
Selecting the right queuing solution for your DMV is very important as it directly impacts your customer flow. Our consultants understand your challenges and can help design a perfect DMV waiting experience.