Back to main Blog

Hakim Faiz
Enticed by the abundance of vowels and motivated by a spirited delight in facilitating personalised and human visitor experiences, Hakim is a digital content strategist at Wavetec. She specialises in the articulation of queue management and self-service solutions, edifying them to wider networks of businesses.
What is a Queue?
It is a hot summer day, you're craving ice cream and so are other people. You all head in the same direction. As you arrive at the ice cream van, you see a line forming, starting with the person who arrived first and ending with whoever joined last.
Until the person ahead of you, and the person ahead of them, and so on, is served, you will remain a part of this queue. What you experience between the time you begin queuing and the time you are served, is known as your unique queuing experience.
What is an electronic Queue Management system?
A system that manages your customer experience while you are a part of the queue, electronically and without the need to be manned. There are many points of contact in this queue, beginning with your desire to avail of the product or service on offer, and it is the duty of the queue management system to ensure that all of these are enhanced to afford your customers an optimized visitor experience.
Queue or visitor management systems are a combination of software and hardware that equip your business with the tools needed to observe, plan, predict and manage the customer's experience from pre-arrival to departure.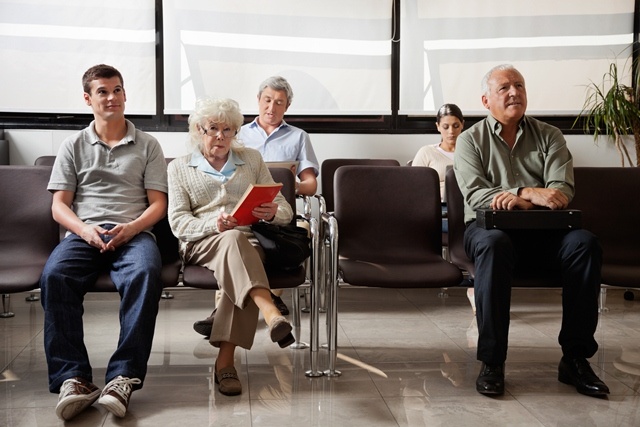 This includes facilitating accessibility to your product or service and collecting essential data to inform prudent decision making. Resulting in improved business analytics and performance, happier clientele and increased customer onboarding. All the best managed businesses have a queuing system installed, and the market size keeps on growing!
In essence, queue management can also be referred to as customer journey management, since it is no longer only the process of queuing that needs to be enhanced. But rather the entirety of the experience, starting with pre-arrival appointment scheduling and ending with post-departure customer feedback.
What different kinds of electronic Queue Management Systems are available?
Wavetec Queue Management systems are a mix of hardware and software that complement one another, working in a seamless harmony to support your business needs. They include the following:
Wavetec's Enterprise Virtual Queuing System allows you to define customer journey flows using an ecosystem of interconnected modules that deliver a personalized and touchless customer waiting experience.
Pre-Arrival
The customer books an appointment using the online Appointment booking and Scheduling software. They can reschedule, cancel and manage their appointments from the comfort of their home and on the device of their choice.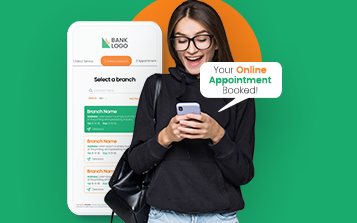 They will also be issued an electronic ticket, detailing the time and place. And regular notifications, via SMS, app, or email, will alert them to the proximity and particulars of the booking.
Arrival
The customer with a scheduled appointment arrives on-premises, checks in using their personal device, a check-in kiosk or by informing the staff on-duty. They are now in the virtual queue and will receive real-time notifications, via SMS, email, app or digital signage, alerting them to the status of the queue, their position and the estimated waiting time.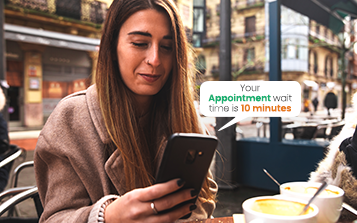 Walk-in customers, and those without scheduled appointments, will secure their place in the line by scanning a QR code and opening a WhatsApp chat, sending an SMS to a displayed number, approaching a self service ticket dispensing kiosk, or using the app associated with the business. Regardless of the method, they will be issued a paperless ticket, join the virtual queue and begin receiving regular queuing status updates.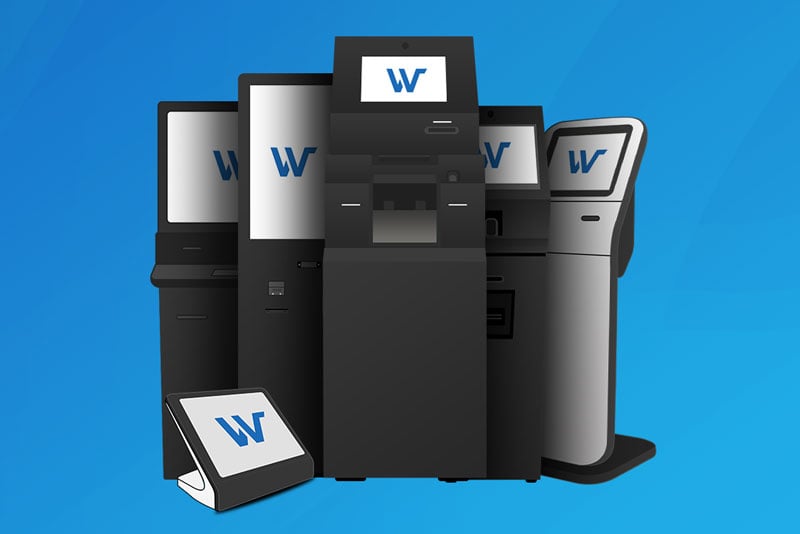 Virtual queuing means that without physically being present, your place in the queue will remain secure. This allows customers to wait in a coffee shop, buy groceries, walk their dog, or do anything else they please, until their turn arrives.
Being Served
As their turn arrives, customers will make their way on-premises, They will be guided by Digital Signage to the counter and will then be served.
While the customer is procuring the product or service of choice, management will be able to monitor, organize and manage the customer experience via their Lobby Leader application.
After being Served
Once the customer has been served, they will be asked to register their feedback via feedback terminals in-store, or via their personal devices on WhatsApp or by SMS.
Wavetec's Linear Queue Management solution, known as UNO-Q, is a simple call-forward queueing system that can increase service area efficiency, decrease wait times and improve the customer experience.
Arrival
Customers join a single queue as they arrive.
Being Served
When a counter becomes available, the server will press a button to alert the next customer to their turn.
Digital signage displays, showing counter availability and up-to-date information will call and direct customers.
After being Served
Customers leave the premises after acquiring the service or product they came for.
Wavetec pioneered the WhatsApp Queue Management solution to operate as a fully integrated system that enables your customers to contactlessly join a queue. It is built on the premise of innovation, geared towards improving customer flows and increasing staff productivity.
Arrival
The customer arrives on premises and scans an displayed QR code to open a WhatsApp chat conversation with the business. The system greets them, and after asking questions pertaining to the service or product they wish to purchase and who they wish to be served by, they are issued an electronic ticket.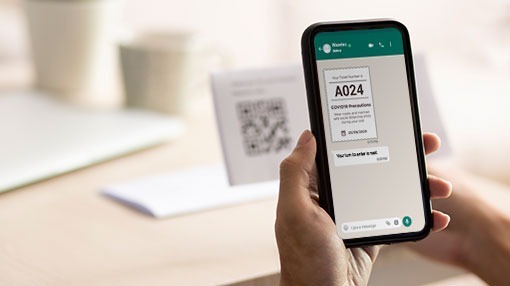 This secures their place in the virtual queue and they begin receiving real-time WhatsApp notifications about queue updates. They can wait elsewhere too, thereby reducing chances of contact.
Being Served
The customer's e-ticket was integrated with digital signage and lobby leader calling applications, and so when their turn arrives, they will be directed to the required counter.
After being Served
After having been served, the customer will be asked for feedback on the quality of their visit via WhatsApp chat.
Wavetec's MobileQ allows your customers to book an appointment or enter the queue with just a few clicks. This solution is designed to issue tickets, send notifications and alerts in real-time and support your customer throughout their journey.
Pre-Arrival
The customer will scan the QR code from the comfort of their home, open a WhatsApp chat with the business and register their choice of branch and the service they require. They will be issued a ticket with their details and begin receiving notifications to alert them to the proximity of their appointment.
Arrival
Walk-in customers will arrive on premises and scan a displayed QR code to open the designated chat. The system greets them and asks what service they would like to avail of. They will then be issued a ticket and begin receiving real-time notifications about their estimated wait time.
Those with appointments will arrive, inform the chat that they have checked in and be placed in the virtual queue, staying up-to-date with queue status alerts.
Being Served
When their turn arrives, the customers will approach the counter, guided by digital signage.
After being Served
Customers will be asked to register their feedback via MobileQ.
Wavetec's Occupancy Control solution, also known as People Counting, footfall counting, visitor counting, customer counting or door counting, uses 3D imaging technology to manage queues. Effective even in low-light sensitivity and low latency, this is your Covid19 management solution.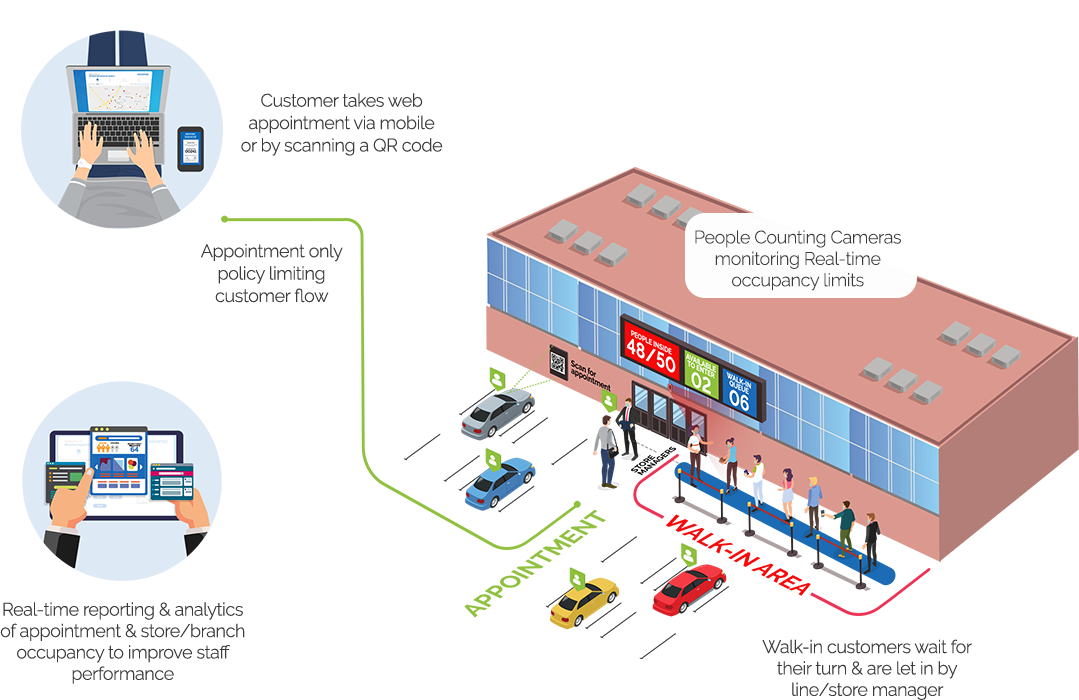 Arrival
The customer arrives on-premises and their presence is registered by the people counting device installed at the entrance.
After being Served
As the customer departs, their absence will allow for the entry of another customer in their place.
Wavetec's Spectra is a live reporting system, complete with manager dashboards, can be integrated with the different facets of the queue management systems mentioned above to form a complete business intelligence module.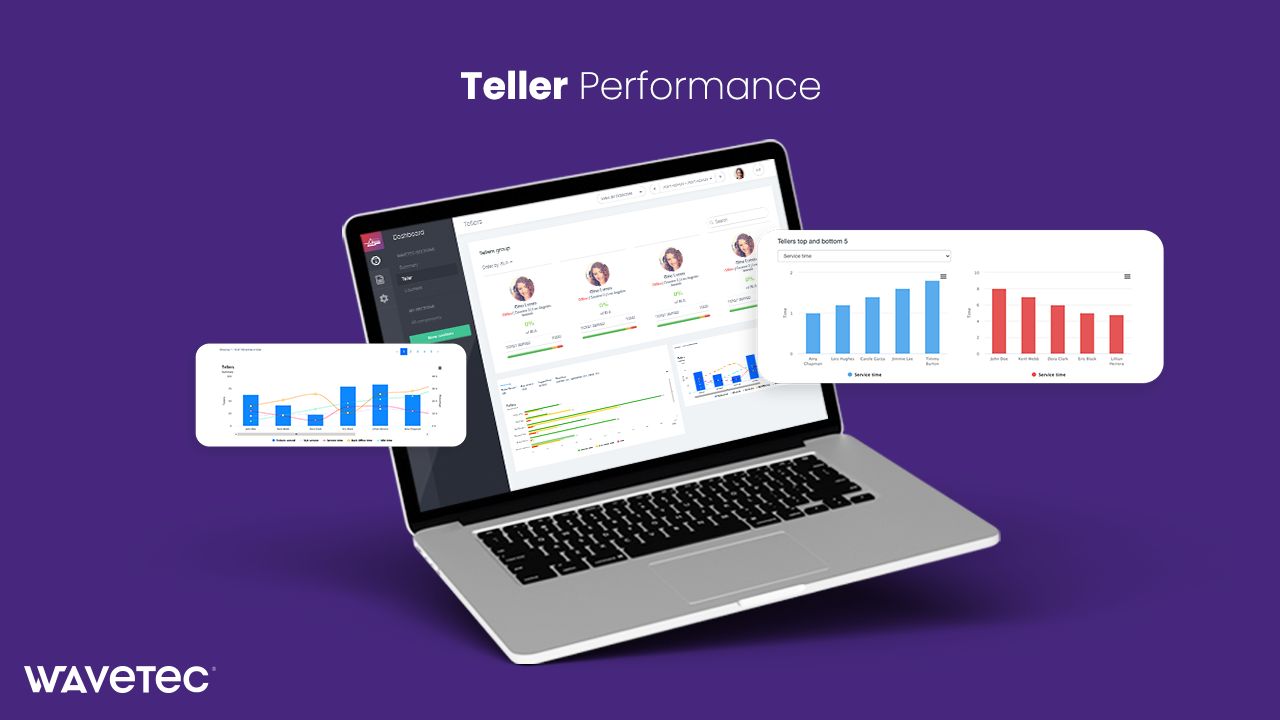 Spectra is a complete enterprise solution that is capable of extracting comprehensive insights in terms of customer flows, staff performance, service area efficiency etc. Managers access real time business intelligence reports and dashboards through a centralized reporting system.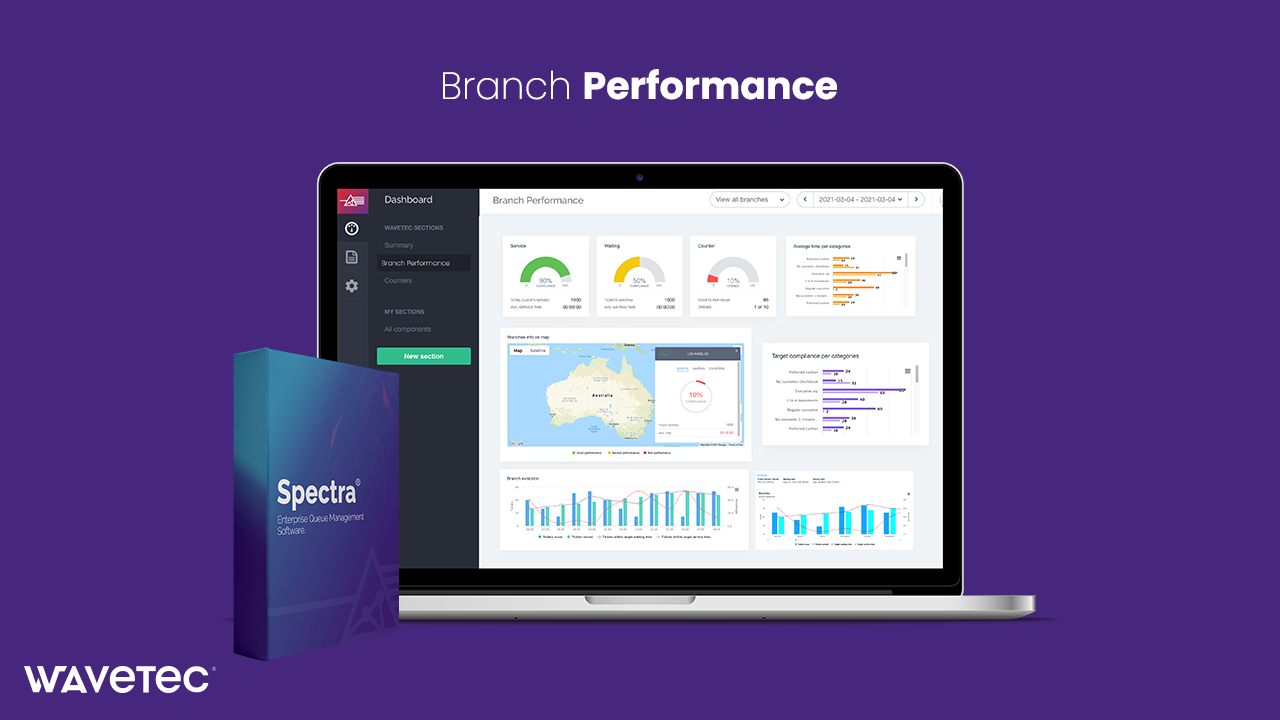 Spectra software powers the customer journey products offered by Wavetec, including Online appointment booking & Scheduling, Virtual Queuing, Mobile Queuing, WhatsApp Queuing, Web Ticketing, SMS Tickets and Customer Feedback.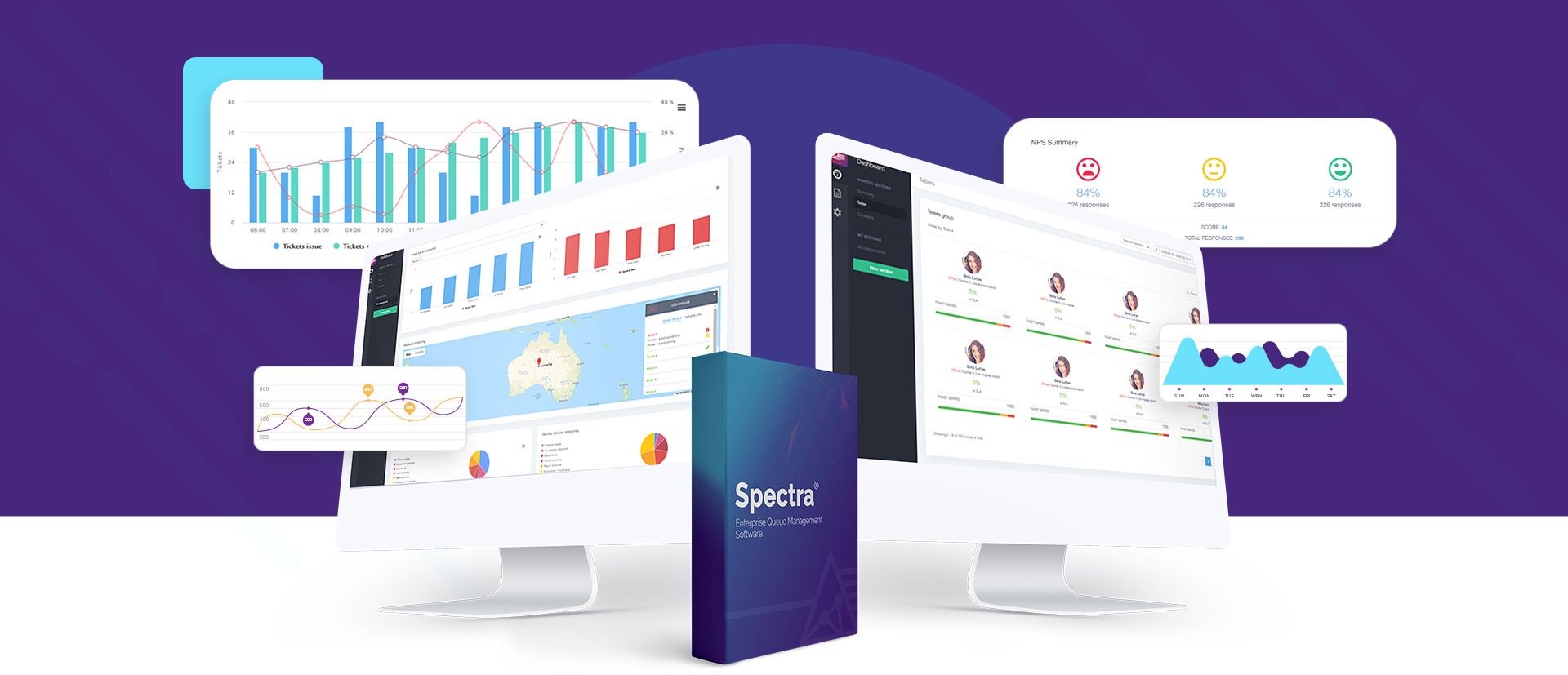 What sets Wavetec solutions apart from the rest?
End-to-End turn key solution provider
Customizable workflows
Integration with existing systems supported
3 global development hubs
Global support and infrastructure
Incremental product and software roll-outs


Benefits of queue management systems
For Customers
Smooth and contactless queuing
Remote and virtual queuing for safety
Shorter, quicker and more transparent waits
Improved customer-business relationship
Increased accessibility and engagement with business
Real-time updates, notifications and alerts about queue status
Self service
Reduced perceived wait times with informative and engaging digital signage
Matched with the right customer representative for the service or product required
Personalized service delivery
Higher satisfaction and digital onboarding rates
For Staff
Increased safety with contactless queuing
Optimized staff allocation and mobility for improved productivity
Real-time data collection and dashboards for better prediction and management of footfall
For your Business
Boost revenue with cross-selling
Track staff performance to increase productivity and operational efficiency
Collect data, predict and plan for footfall
Accurate and analytical dashboards and reporting
Optimized resource planning
Measure effectiveness of policy changes
Centrally-controlled management and queuing
Reduced operational costs and higher profit margins
Customizable, standalone and scalable solutions
Identify areas of improvement and target accordingly
Maintain occupancy limits and social distancing guidelines
Display important information clearly with digital signage
Join the ranks of other modern and digital businesses
What to consider when deploying a Queue Management system
When choosing the right Queue Management system for your business, it is important to consider the track record of the company you choose to supply you with their solutions. They must understand and be privy to the needs and experiences of your customers, and have project management experience. Alongside this, their solution must also answer the following questions:
Does it integrate all touch points of the customer journey flow?
From pre-arrival to departure from the premises, customer flows must be optimized, seamless and frictionless. To ensure the effectiveness of the system you have deployed, it must connect to the entire customer journey to give you in-depth insights into visitor needs, wants and experience and service performance.
Does it allow for third-party integrations?
Your business will have many components that will need connecting - both physical and digital channels. Does the solution you have deployed frictionless-ly integrate these components and systems, with room for additional third-party integrations in case there is a need for customization?
Can you monitor your business performance in real-time?
Receiving updates, notifications and alerts regarding business performance metrics is essential. Does your system facilitate current data collection, reporting and analysis? These will allow you to monitor productivity, customer satisfaction, and data on average wait and service times.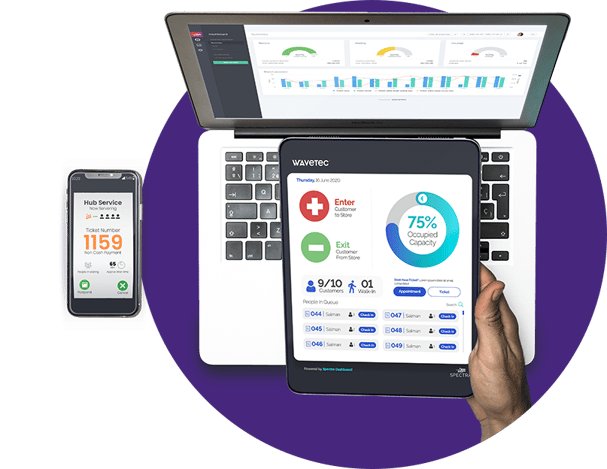 Is your system an omnichannel solution?
Customers must be able to access your products and service through a number of channels of their choice. This will allow for smooth onboarding of digital and non-digital clients of various demographic backgrounds - with no gaps or service breakdowns.
Is the system easy to configure and customize?
Your business is unique, as are the requirements of your clients. The solution you choose to deploy should be customizable to fit your brief and easy to configure with your existing systems, as well as adapt swiftly to cancellations, late walk-ins or other such disruptions.
Is the system secure?
Does the solution in place value and protect consumer data in accordance with GDPR compliance?
Is your solution scalable?
Does the system accommodate growing demands? Businesses upsize and downsize depending on the stage they have reached in their growth. The solution you deploy should be capable of adapting to increased or decreased volumes of customers, as well as a wide range of demands - ensuring uninterrupted service delivery.
Can your system be centrally controlled?
If your organization is large, has many branches and stores, then you need a management solution that can monitor and control operations across all these sites. Changes in policy, software updates and notices can be dispensed and implemented centrally and followed seamlessly throughout.
This will increase efficiency and save time, resources and costs, while allowing for more holistic reporting and analysis.
Which industries can Queue Management solutions be deployed in?
All industries stand to benefit from the installation and use of a good Queue Management system. These include:
Public offices
The public sector has begun to digitize operations, looking to facilitate safer customer journeys and staff experiences. High volumes of foot traffic, a need for centralized systems and the responsibility to set the standard for other industries means public services must manage citizen and visitor volumes efficiently.
Case studies:
Botswana Unified Revenue Service
Federal Authority for Identity and Citizenship (ICA), UAE
Healthcare
High patient footfall and the need for short managed queues necessitates the deployment of a patient management solution. Both patient and staff must be kept safe and stress-free in a monitored environment.
Case studies:
AlMoosa Covid-19 vaccination centre
Capital Health Screening Centre
Retail
The goal for retail stores is to increase profitability, improve customer journey flows, and cut operational costs while increasing staff productivity. They must facilitate the experiences of online, mobile and in-store shoppers. A visitor management system would help them streamline and direct daily operations - allowing central control to management.
Case studies:
Banks
Financial institutions like banks and credit unions are jostling for client attention and business, so to stand out, service quality and customer experience must be optimized.
Case studies:
Telecoms
Telecommunication service providers face high customer onboarding each day, and abundant branch traffic. They need a system that handles appointments and walk-ins smoothly, while collecting data for analytical reports that will help improve service delivery.
Case studies:
Airports and Airlines
Passengers expect their air carriers to be organized and well-managed to accommodate their evolving needs. A passenger management system would improve their experiences, from pre-boarding to arrival.
Case studies:
How can you make the most of your queue management system?
Implementation is an important and fundamentally essential process. To make it effective for your business, begin by answering the following question: What are the needs of your business? Identify what your business needs to move to the next level and increase customer satisfaction.
This includes what your customer wants, how to fulfill their needs while ensuring that your business is capable of adapting. And then observe how the queue management system you have selected helps you. These may also include quicker queues, cutting operational costs, improving quality, etc.