In this blog: We discuss how self service technologies have conditioned consumers to adopt new habits and behaviors.
---
Self service technologies allow businesses to assist customers in executing transactions by themselves via touch screen kiosks or mobile apps. This eliminates the need for mundane jobs like bank tellers and cashiers, and allows for operations around the clock.
Redefining Customer Experience
Self service technologies such as kiosks and mobile apps have transformed the product & service delivery landscape today. These tech marvels have allowed businesses from various industries to diversify their delivery channels and offer a true omnichannel experience to the end user, maximizing convenience and customer satisfaction.
Customers have become accustom to these new technologies and channels which is made evident by the significant shift in consumer behavior. The use of these new technologies has proven beneficial for both parties, the service provider and the service consumer.
Let's take a look at how self service has influenced and redefined the perception of customers.
Increased AOV
Many businesses have realized a consistent trend of an increased AOV or average order value as a result of self service deployments. What this means is that when conducting a transaction through a self service medium, customers are buying more goods and services relative to traditional channels like over-the-counter.
The quick service restaurant industry has reported notably higher AOVs as a result of installing self ordering kiosks at their locations; fast food giant, McDonald's reported that customers were spending, on average, an extra dollar when using the self service kiosks which translates to a 30% increase in AOV.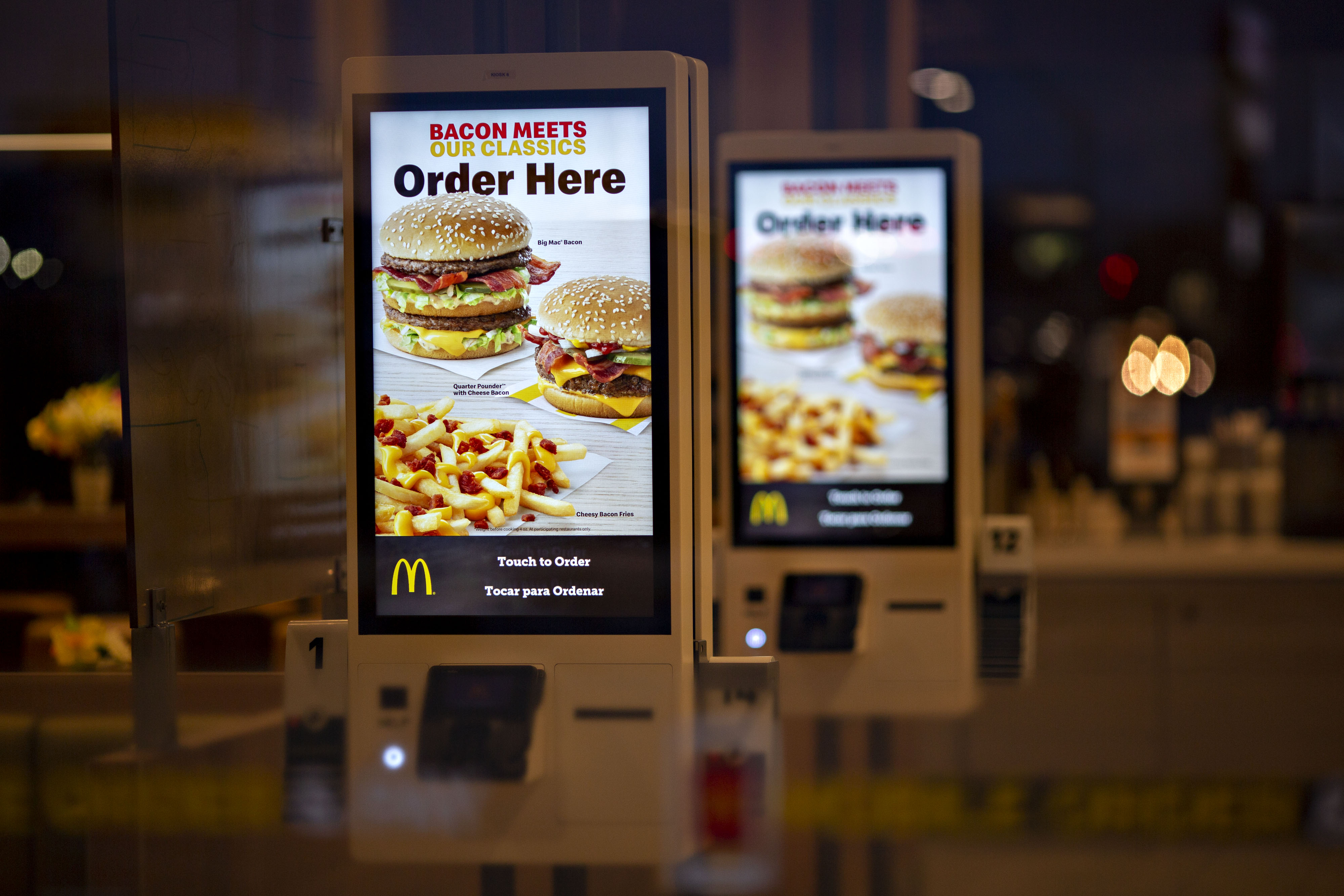 Taco Bell experienced a similar trend and reported a 20% increase in their AOV from self service kiosks. However, its not just the QSR industry that is leveraging the benefits of this technology, financial service providers are also at the forefront of the self service movement. Mobile wallet transactions yielded a 40% higher AOV via self service.
The image below shows a graph from our report assessing the impact of Covid 19 on self service. The graph illustrates the trend of AOV over the first 4 months of the pandemic. We can clearly see that AOV has risen significantly despite the dip in February.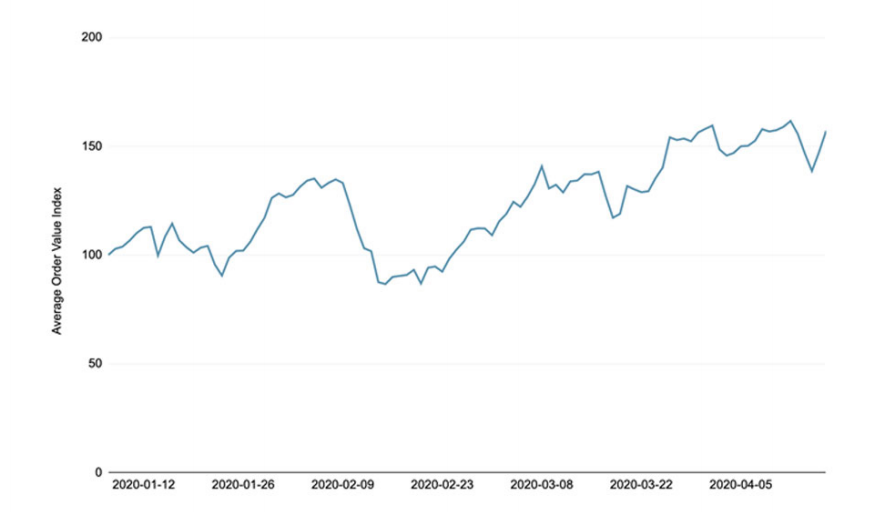 Take a look at the complete report here.
The Influence of Kiosks
The key difference between a human and a kiosk is that humans make mistakes and are programmed different to machines. Cashiers are often trained to upsell and cross sell by offering additional goods at checkout like when a cashier asks if you'd like fries with your order. For a split second you think about it and impulsively buy the fries anyway.
However, humans can forget and often fail to upsell. Self service kiosks on the other hand, never forget and they show the customer personalized offers upon checkout based on current and previous transaction history. In this scenario customers are very likely to buy additional goods and services.
For example, customers who wouldn't normally purchase dessert or a drink with their fast food order are a lot more likely to purchase these add-ons when ordering from a self ordering kiosk.
Another very interesting observation we've made during the pandemic is the change in the value of certain transactions e.g. cash deposits to mobile wallets have become the primary transaction type as shown by the graph below.
Cash deposits contributed nearly 90% of all mobile money transactions towards the end of March, 2020.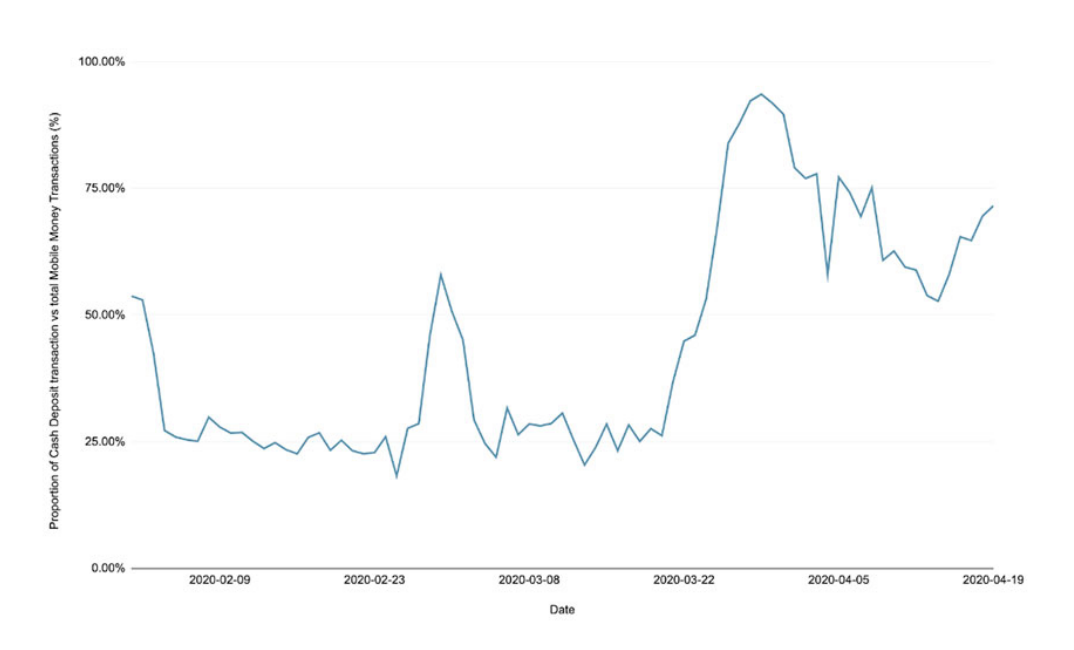 Shifting Market Share
Today's consumer expects an omnichannel experience wherever they go and if a business doesn't provide such an experience customers are quick to seek alternatives that do. Your customers want convenience and there is research to prove it; a 7 second reduction in wait time can lead to a 2% increase in market share. Just imagine the gains from eliminating wait times altogether.
No More Ordering Anxiety
Over half of the world's population is introverted to an extent; this means that a good amount of us suffer from social anxiety and some have even more severe cases. These people refrain from any external social interactions because they can be a huge mental burden for them; simple things like interacting with a bank teller or supermarket cashier.
Self service kiosks are a godsend for such individuals who wouldn't step foot inside a bank unless absolutely necessary. Self service kiosks like cash deposit machines allow them to make everyday deposits without triggering their anxieties.
Ordering food, especially, can be a drain with huge lines and cashiers always getting orders wrong. Self ordering kiosks allow introverts space and time to calmly place their order without external disturbances and pressure.
No Social Stigmas
Another reason why kiosks are able to sell so much more than other channels is because there is no one to judge your choices or make fun of you while transacting. A study was conducted to assess the impact of retail environments on sales. The results were quite interesting; when a liquor store offered self service checkout, the market share of difficult-to-pronounce items increased by 8.4%.
This was quite interesting because it revealed that previously customers were afraid of social judgement for mispronouncing words and this would influence their decision against purchasing something they didn't know how to pronounce.
However, when presented with the self service checkout option the fear of social judgement disappears because no human interaction is involved and customers can freely purchase whatever they want.
Empowered Customers
Self service has also resulted in an increase in special instructions and customization. When placing their order at an ordering kiosk, customers are more likely to give special instructions and describe exactly what they want as opposed to ordering at a counter where they just want to get the interaction over with.
Special instructions go up by 14% when orders are placed via self service kiosk because customers enjoy the judgement free environment and the liberating independence of executing transactions themselves without relying on store employees.
Job Enrichment
You might assume that the widespread use of self service technology will bring about a rise in unemployment but you would be wrong. When employees no longer have to perform monotonous tasks they can focus on more demanding jobs that test their skills and give them greater satisfaction. This additional sense of responsibility enriches their job and enhances their skills as well.
New Generations = New Customers
It is very important for businesses to consider the oncoming generations of millennials and zoomers when planning their service delivery strategies because these individuals are going to represent the vast majority of their market in a few years time. Consumer behavior is changing because the consumers are changing too.
90+% of millennials have used self service kiosks as opposed to 81% of adults and more and more millennials prefer self service if there is the option. The younger generations are also in favor of payments via mobile devices and smart watches. 25% millennials use self service to avoid any human interactions.
Compete or Become Obsolete
Its quite clear that consumers are moving on and have adapted to the omnichannel landscape of service delivery. This is what they expect from their banks, restaurants, telecom providers and supermarkets. They expect businesses to be present where they are and if you cannot offer that, they will find alternatives.
The deployment of self service kiosks and an omnichannel strategy is what gives businesses a competitive edge in today's cut throat business environment. Businesses that choose to remain myopic and continue with their antiquated practices will be obsolete soon.
Azimut Self Service
Azimut is a self service solutions provider that focuses on bringing you the best end to end solutions available in this ever growing industry. Azimut is part of the Wavetec Group, serving some of the largest banks, telecoms and mobile financial services providers in North America, Africa, and Central & Southeast Asia.
Reach out to our sales team today to equip your business with the right tools to gain a competitive edge over the rest.