Back to main Blog

Hakim Faiz
Enticed by the abundance of vowels and motivated by a spirited delight in facilitating personalised and human visitor experiences, Hakim is a digital content strategist at Wavetec. She specialises in the articulation of queue management and self-service solutions, edifying them to wider networks of businesses.
In this blog:
The lot of healthcare providers and front-line workers,
Patient flow management solutions - pre-arrival, arrival and departure, and,
Projected benefits, projected success.
As healthcare ails, future hope pales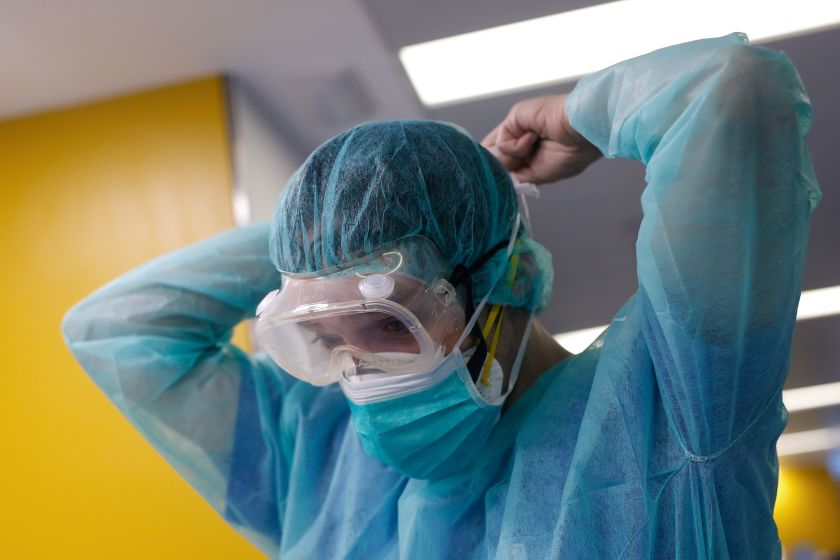 Photo credit: Getty Images
The year draws to a close, and we continue living in a world very much dictated by Covid-19 infection rates. This necessitates that we remain vigilant and flexible - so as to anticipate and adequately prepare. Healthcare providers and the facilities from where they disseminate these services are at the front-line of this pandemic. They currently face:
Increased patient flows, and therefore longer queues and reduced social distancing,
Decreased staff availability, and a heightened pressure to remain uninfected, and,
The sheer idiocy and malign that accompanies misinformation and conspiracy theories.
The above necessitates efficiency and a commitment to maintaining standards of service, while educating the public to remove doubts and fears. A tall order for those many choose to take less than seriously.
As a business in the healthcare industry, perhaps a hospital, clinic, pharmacy, emergency room and/or laboratory, equity is a must. Equity in terms of geographical deployment of services and in terms of serving the needs of groups with specific medical requirements. And with the pandemic here, fulfilling this becomes difficult yet all the more pressing. Patient flows are not being managed, patient journeys remain unmapped and queues for consultation, testing and beds grow longer and longer. This coupled with the fresh onslaught of seasonal flus, coughs and fevers, means most national health care systems face near collapse.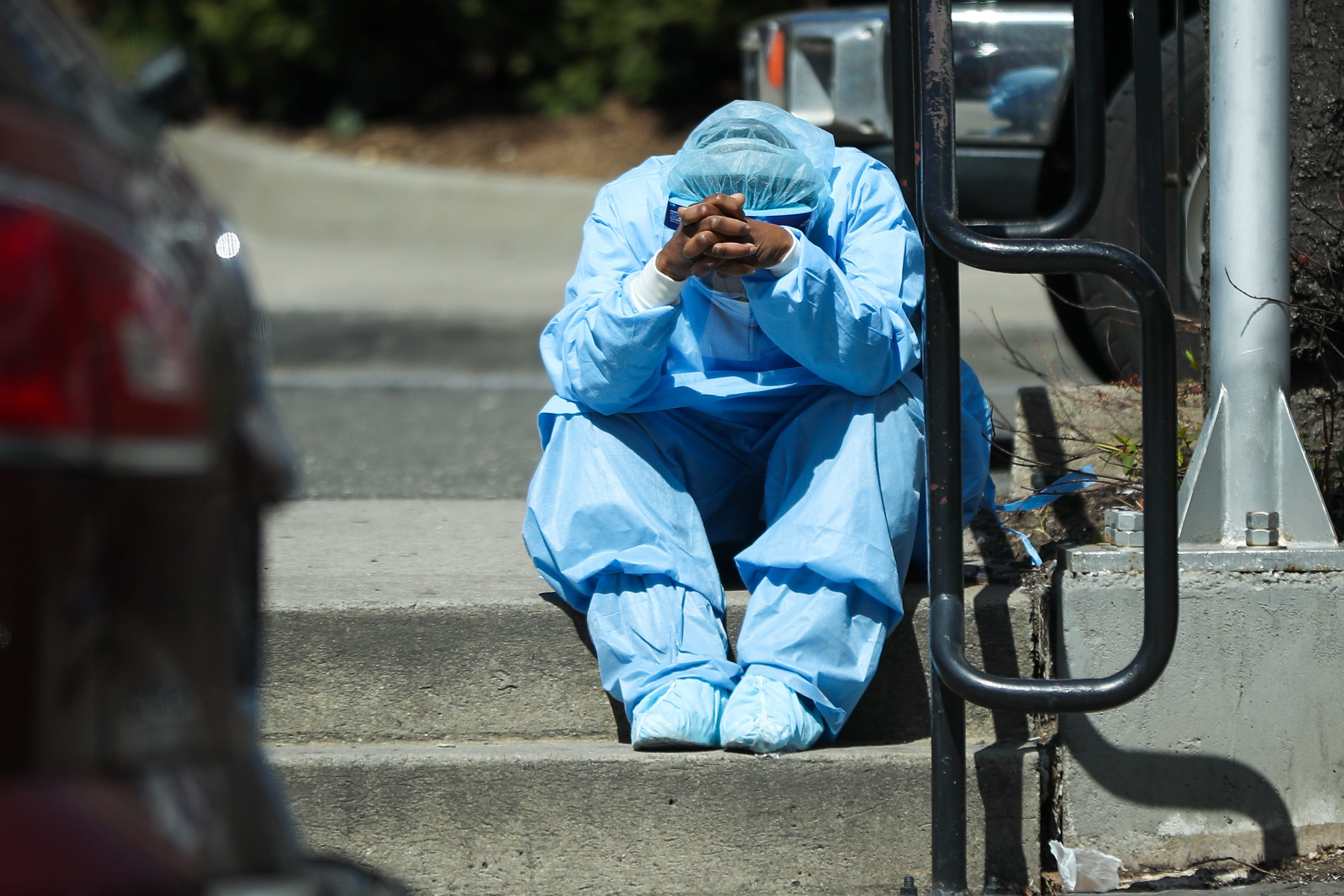 It is already being reported that due to the focus on and the pressure of Covid-positive patients, other groups with non-communicable diseases such as cancer, diabetes, etc., are facing disruptions in healthcare provision. They suffer from staff reallocations and must be factored into any discussion about national health responses. In light of this, countries have adopted their own solutions to mitigating the pressures - take for example China.
Acutely aware that demand for medical services outstrips supply, China is adopting telehealth as the solution and a likely saviour. Digitally disseminated healthcare is a boon for the rising aged population - appointments can be booked online and consultations conducted the same way. And with increased broadband, internet and mobile penetration, the adoption of these solutions will be all the more seamless. Actions are being taken to have insurers cover such costs, and debates over the relative privacy, or lack thereof, of these methods are being conducted, all geared towards the vision of an estimated $50 billion market by 2025 (UBS).
Manage your patient flows, for abounding convenience
Taking a lesson from the little red Chinese book of 'How', effective visitor management solutions seem the likely next step. The aim is to:
Sign in, identify and track walk-ins, appointment holders, and emergency cases,
Maintain social distancing, occupancy limits and other Covid-19 guidelines,
Reduce queues and minimise wait times,
Debunk Covid-19 myths and theories,
Balance visitor ease with the health and safety of staff and pre-existing patients.
To achieve this, your business must take advantage of this crisis to digitise and automate its services, adopting the latest and most pertinent technology. The solution to the above dilemma lies in Wavetec patient flow systems. And before you protest this shameless self-promotion, hear us out.
Offering virtual and linear queueing options, ours is a streamlined and frictionless journey from beginning to end.
Pre-booking
Patients can schedule appointments and tickets online using mobile and web applications and mobile SMS, from the safety of their homes. While booking, they are made aware of peak foot traffic times, thereby helping them avoid crowds and queues.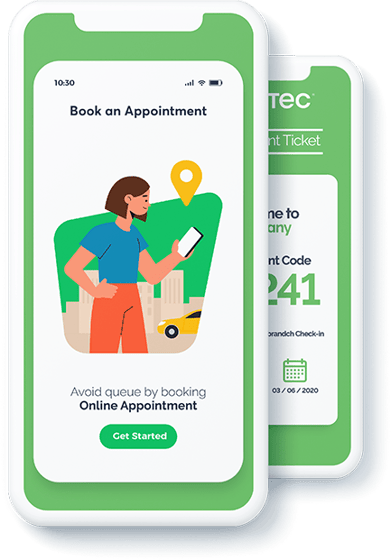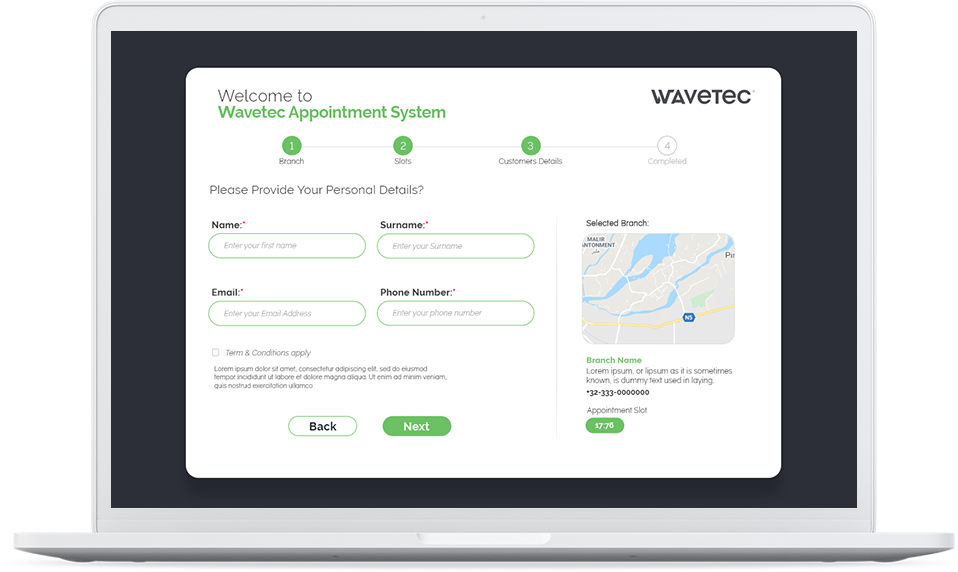 Priority booking and queueing
They will also be allowed to opt for priority booking and queueing. This helps the service providers distinguish between those who need immediate attention and those who could potentially wait, thereby alleviating additional burden on the system. In the case of a communicable virus such as this, this equity-complying solution aids in keeping all safe from infection.
Notifications
Once the visit is planned, the patient will receive notifications to remind them of the appointment, to relay any changes to timing or location, or give updates on the pandemic. They will also have an open channel of communication with the administrative staff so that rescheduling, cancellations and relaying of queries can be made possible.
Arrival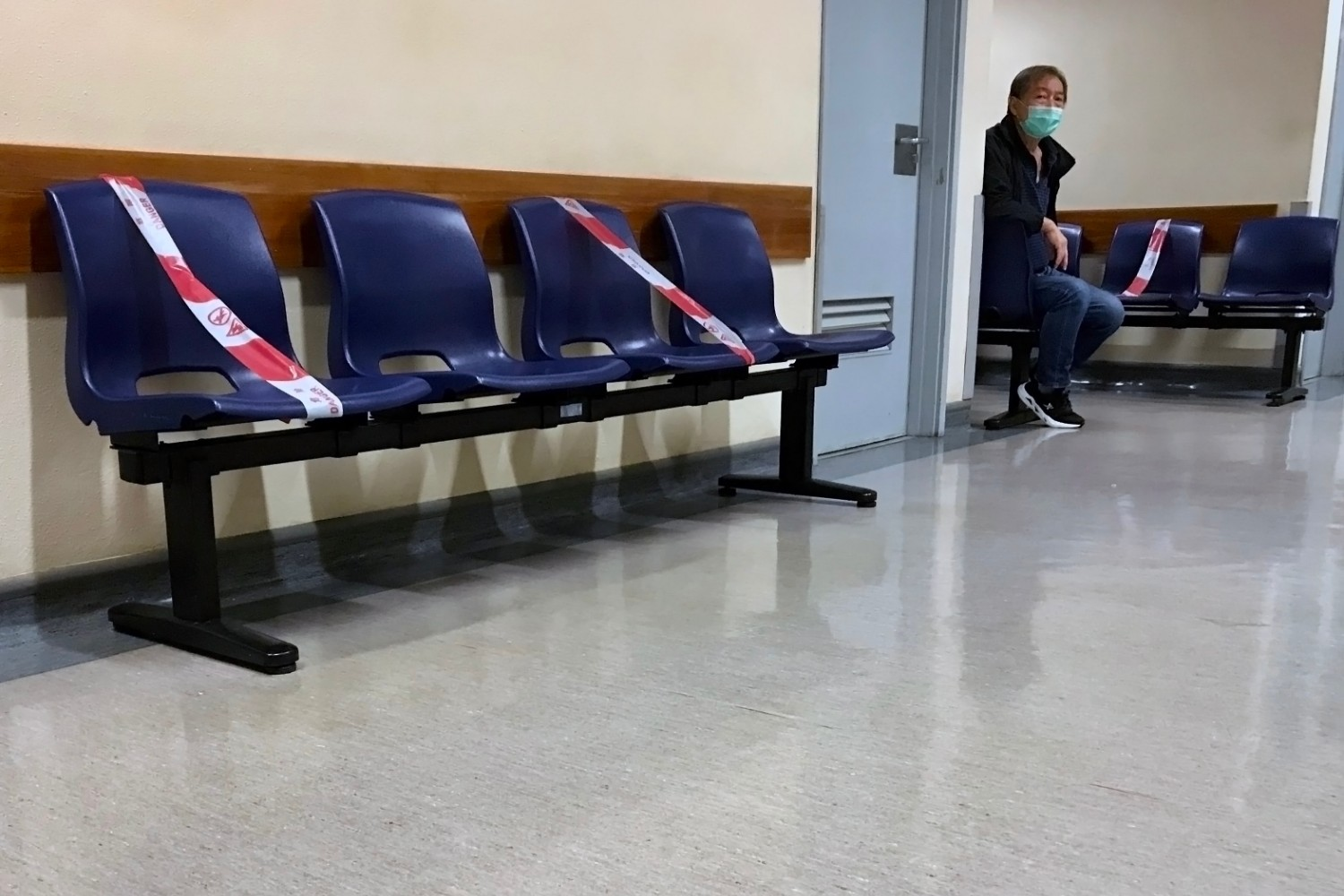 People counting
Software to calculate numbers of visitors in real-time and proximity to occupancy limits is important if not necessary. A system of alerts and report compilation will be integrated with this for additional support.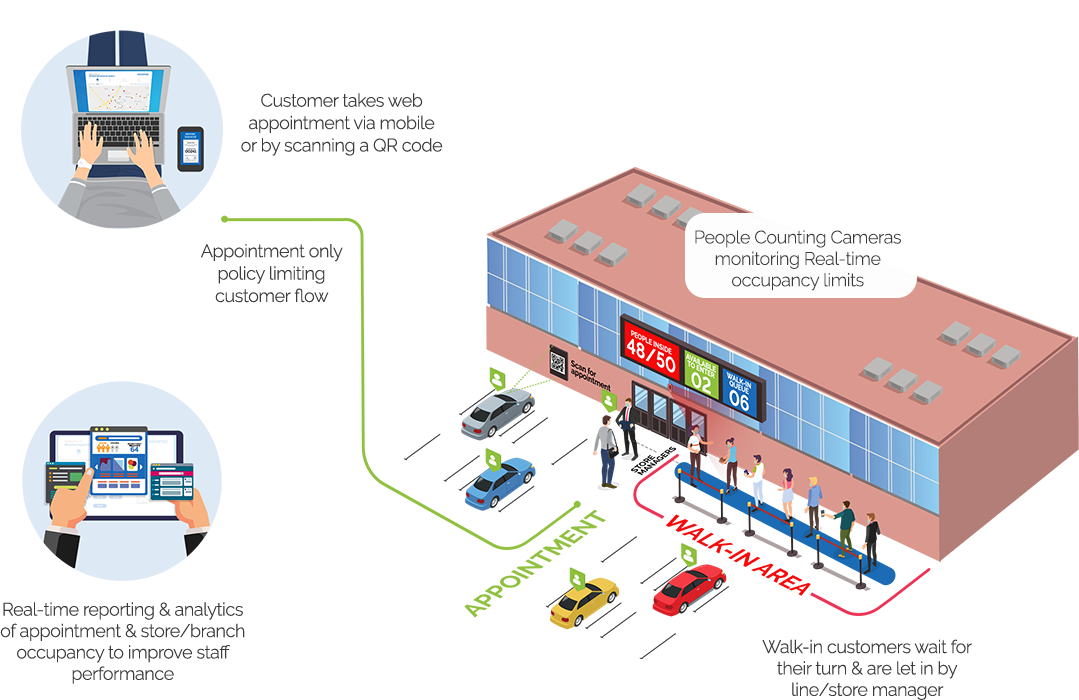 If the patient has pre-booked themselves a slot, they can check in using a self-service kiosk, via the online web portal or the mobile SMS or app - like WhatsApp Queueing. They will then either receive a physical or virtual ticket.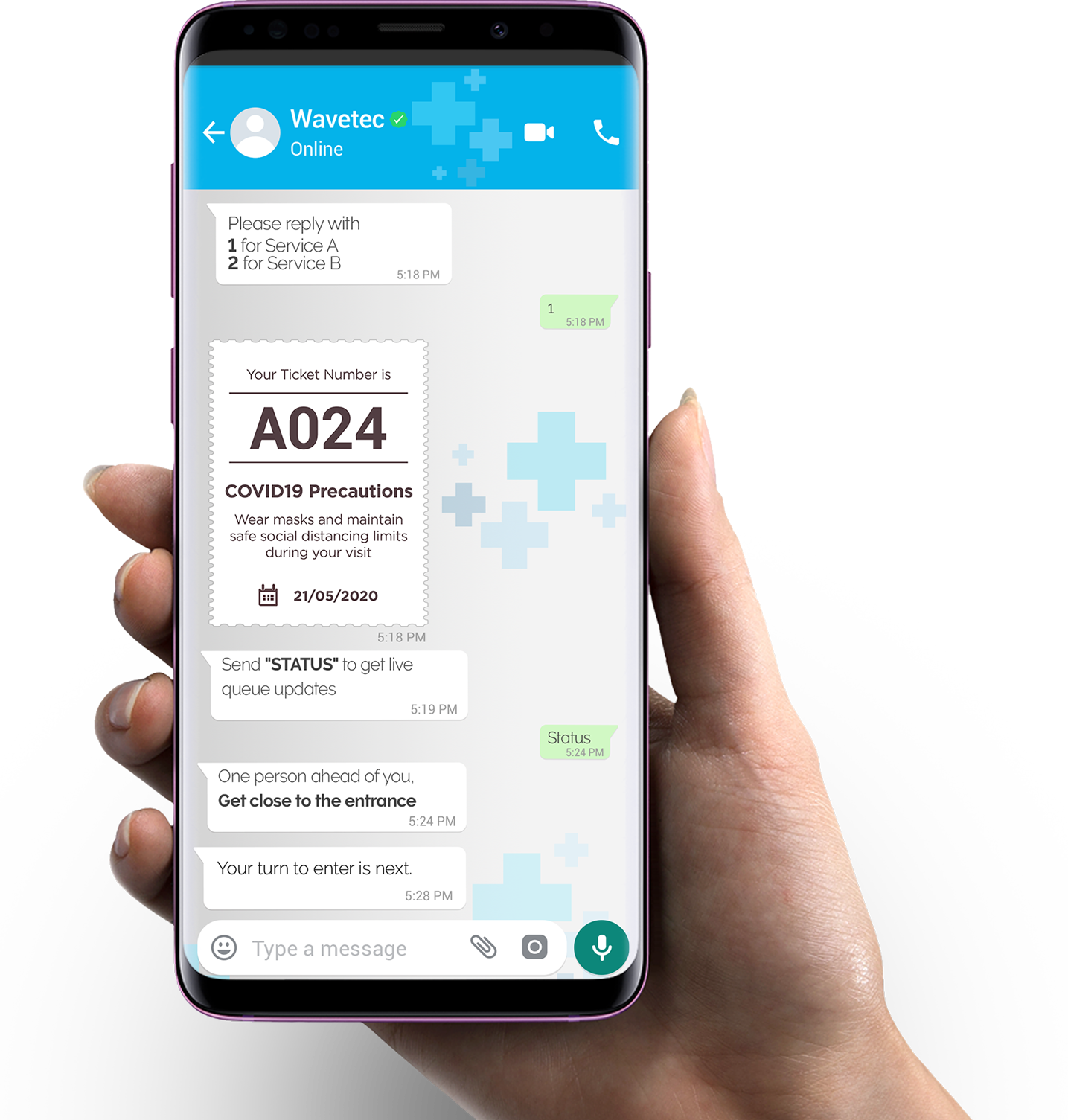 Walk-in patients too can serve themselves at these kiosks, book an appointment (priority booking and queueing included) or join the virtual queue for the next available one. This can additionally be facilitated by the generation of a QR code. Depending on the technological access they possess, they will hold a physical or virtual ticket.
KYC Compliance in Biometric Verification
Are you really who you say you are, and would you like a sprinkling of pre-staged services? Identification is a key privacy and security matter, and with our Know Your Customer compliant self-service solutions, your patients can use their Identity card, thumb print, facial recognition, or other documents, to prove theirs. And based on this information, our systems can help pre-stage transactions and further increase convenience and service satisfaction. Human interaction too is kept at a minimum.
Notifications
Post-ticket issuance, patients can look forward to real-time notifications about their queue position and estimated wait times. They will be called using digital signage and mobile notifications.
Digital Signage
Meanwhile they will be targeted by digital signage, that can effectively be used to serve educational and directional purposes. Engaged and informed, patients will be well-guided throughout their customer journey.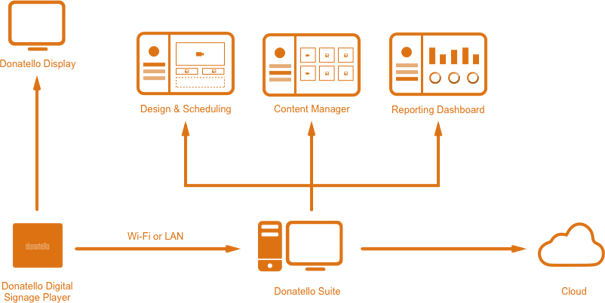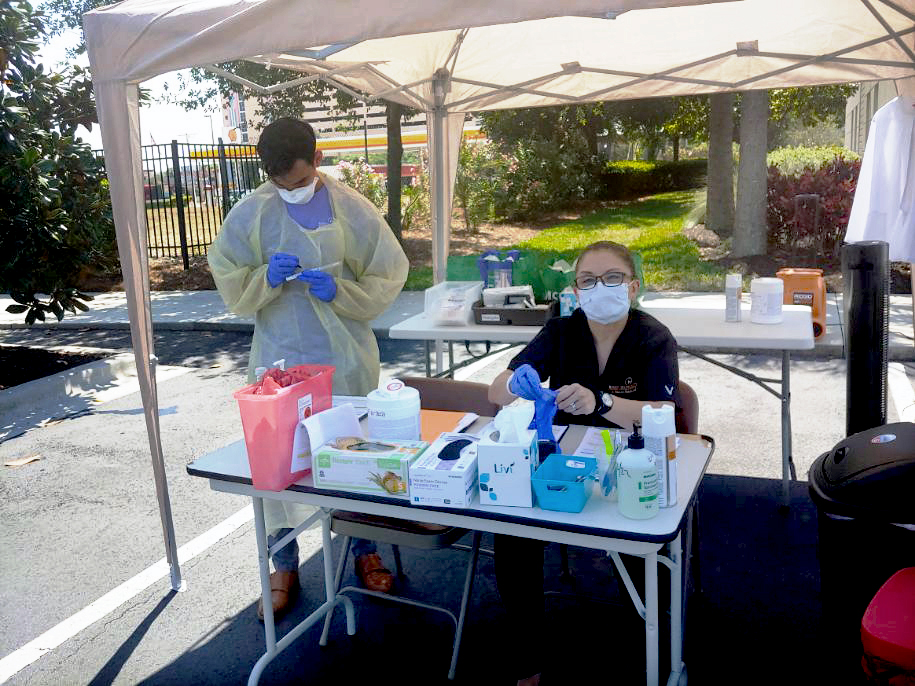 Testing centres can be set up in parking lots, or other open-air facilities so as to keep contact to a minimum. Picture credit: Rosen Hotels and Resorts
Post-Service, Pre-Departure
Once the patient has been served, checked, treated, they may need to visit the lab or the pharmacy for additional resources. Our integrated systems allow for prescriptions to be filled out and transferred between departments virtually and contactlessly.
Delivery and Pickup
And for results and prescription fills and refills, retail pharmacy businesses and hospitals could adopt both curb-side pickups and home deliveries to ensure that visitor foot traffic remains at a minimum.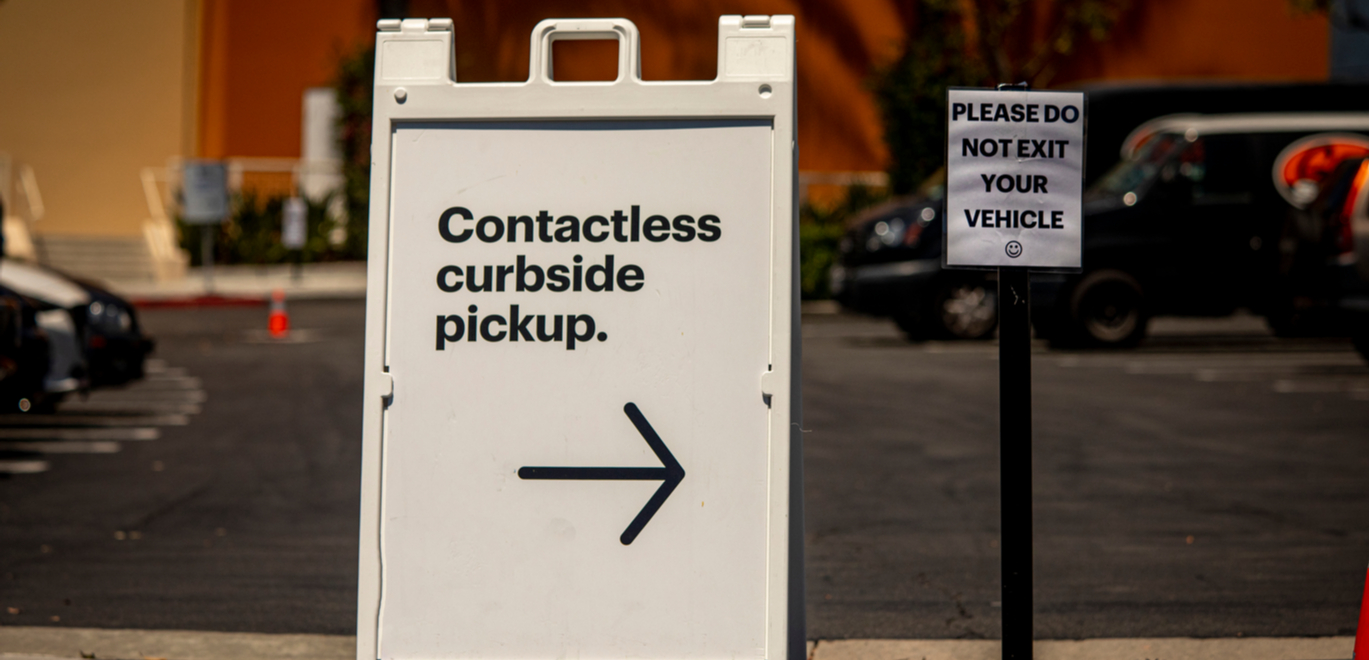 Well-illustrated by Walmart pharmacies (below), the process to arrange a curbside pickup can be begun online, via email or on the phone.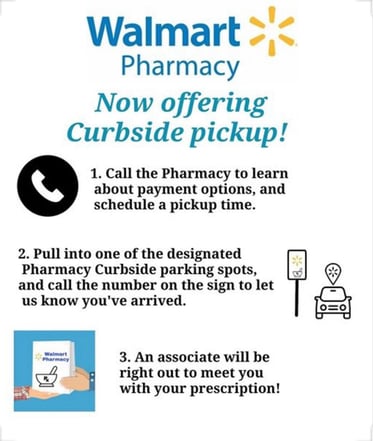 Feedback
Customer feedback, suggestions, queries and satisfaction levels must all be managed efficiently, and so Wavetec has developed a seamless solution, the information and statistics from which can feed into and better inform analytical reporting.

Analytics and reporting
With the installation of a management portal, a manager dashboard and many integrations, your business can generate statistics on wait times, operational efficiency and the quality and standard of service dispensation. Such information appears in reports that come in use when attempting to improve and evolve the public health service environment.
Enjoy a visitor flow on us!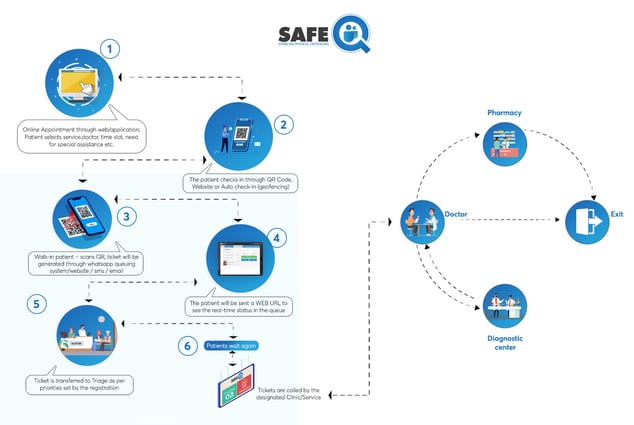 Projected Benefits for Your Projected Success
The scales were trembling, and now they have tipped indefinitely in favour of digitisation, a service management upheaval and a rethinking of truths previously considered concrete. The pandemic has catalysed a transformation of our customer care standards, and with loftier goals in mind, let us convince you why this may be the solution for your business.
Pre-booked appointments support:
Social distancing and a choice of avoiding crowds using projected visitor numbers,
Contactless self-service, reduced wait times and transparency,
The direction of patients to the right department for purposes of convenience, and,
Necessary health screenings (without causing backlogs) of questions pertaining to temperature, exposure, symptoms and recent travel.
Real-time notifications provide:
Patients with transparency of information,
A soundness of mind as they are aware of their position in the queue and estimated wait times, and,
A chance to wait remotely, perhaps in their car, so as to avoid additional contact.
Customer Feedback affords:
The measurement of visitor satisfaction in real-time, and a demonstrated commitment to improving service standards,
An opportunity to follow-up on staff and branch performance, and,
Strategic decision-making based on report.
Analytics and reporting allows for:
Real-time information collection and report compiling, to identify problems, inefficiencies and possible solutions,
Informed policy formulation, and,
A chance to map the patient journey for optimised resource management.
Additional bonuses:
ADA/Disability compliant self-service contactless kiosks,
Solutions are customisable and tailored to your specific needs,
Standalone and scalable for simplicity and privacy,
Cloud based, and,
Limited training is needed for staff to adapt to its use.